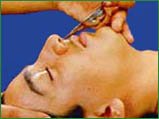 The ayurvedic treatment and spa centres in Ernakulam offer rejuvenating therapy that relaxes and soothes the body and provides nourishment to the mind as well. Very many hotels, resorts and homstays in and around the place offer ayurveda packages of different durations.
The ayurvedic facilities include therapeutic treatment and personal care by experts who will recommend the exact duration that will be required for the treatment. The time taken for a treatment may vary from a duration of fourteen days to one month. The facilities include customized treatments and personal therapy, yoga and other herbal medication to heal the ailment from within. The treatments here are based on the needs of the tourist and the body type of the patient.

The ayurvedic facilities offered also include food and health drinks for the individual based on the kind of treatment he is undergoing. They also include the usage of freshly picked herbs from the garden which is set and is well maintained specially to grow these kinds of herbs which are used in ayurvedic treatments. The foods are also prepared in the ayurvedic kitchen using fresh and pure ingredients that make up the diet, an integral part of the ayurvedic treatment.

The amenities offered include massages, diets, baths, medicines and herbal treatments. There are therapy and massage rooms available.These massages rejuvenate the body muscle and veins.The package also includes treatment for anti-aging, stress relief, weight reduction and mental rejuvenation.
For more on ayurveda in the business city, log onto
ernakulam.com
For Accommodation - Hotels / Resorts / Homestays in Ernakulam