Situated in the South Western tip of India bordered by the Arabian sea on the Western front and the mighty western ghats on the Eastern side, Kerala with its innumerable wild life sanctuaries, pristine valleys and mountains, scenic backwaters, beautiful hill stations and with miles and miles of fine sandy beaches, is undoubtedly one of the greenest places that a tourist would ever set foot on. No wonder the National Geographic Traveler has recommended Kerala, as one of the 50 must see tourist destinations in the world and Kerala is affectionately known as Gods own country.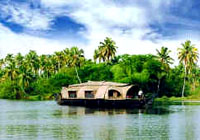 One of the beautiful backwater houseboats places in the world
With the Arabian Sea in the west and a vast network of lakes, lagoons and fresh water rivers crisis crossing it, Alleppey is a district of immense natural beauty. Referred to as the Venice of the East by travelers from across the world, this backwater country is also home to diverse animal and bird life. Today Alleppey is the most important destination attracting thousands of tourists who enjoy the magnificent backwaters in the cool confines of houseboats.

Houseboats or kettuvalloms as they are called are huge slow moving exotic barges measuring over 80 to 100 feet and designed for sheer leisure trips. In the olden days they were used to ferry rice, spices and other hill produce to various destinations and these exotic barges of yore have now been converted in to kettuvalloms with all the creature comforts of a modern day hotel. Cruising along the backwaters of Kerala in a kettuvallom might as well be the most memorable experience of a lifetime.

Our houseboats are so designed and furnished so as to provide every facility to enjoy a memorable holiday in the cool confines of our kettuvalloms. We offer the tourist a choice of One bedroom, Two bedrooms, Triple bedrooms and Family House boats (A/C & Non A/C). Our bedrooms are well furnished having modern eco friendly hygienic
toilets.
Our chef will come up with an amazing array of vegetarian and non-vegetarian delicacies cooked in inimitable kuttanadan style including the internationally famous pearl spot just caught from the lake. We offer you a chance to lounge in one of the best -furnished cabins offering a fantastic view of the palm fringed paddy fields lying by the side of the backwaters. You could also leisure away your time by trying your luck at angling and if you are lucky you might end up catching some of those pearl spot delicacies.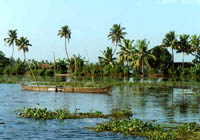 Coco houseboats offer a variety of services that few in the trade can really match. Apart from our houseboat services we also offer the tourist a chance to enjoy a ride in a Speedboat, Motor boat besides offering opportunity for canoeing.
"Coco Planet Tours and Travels" is listed in India Tourism, international eco club, and major web sites and is a member of ATTOI. The company dedicated to the promotion of eco tourism has been doing a commendable job in all the five years of its existence.

Green Palm Eco Marine Project is a joint venture in association with Grant Jepson a British national, who builds eco friendly 100 % pollution free house baoats.with a view to preserve the ecological balance of the backwaters.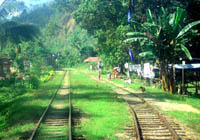 Air : The nearest airport is Cochin, 64 km to the north; Trivandrum International Airport is 159 km to the south.
Rail : Alleppey has recently been linked to Cochin by rail. The Alleppey Railway Station is 5 km from the central bus stand and the boat jetty.
Road : Alleppey is on the NH 47 highway and is connected to all-important towns in south India by public state transport buses.
Houseboat Boat / Motorboat : Alleppey is linked by boat services through the backwaters to Quilon and Changanassery, Kottayam, Cochin, Kumarakom, Kavalam and Chengannur, Kuttanad places.
Click here for reservation
Contact
Travel Division, Kerala.com
Contact Addresses:
Head Office:
Kochi
Kerala.com Travel Division
WorldViewer Dot Com (India) Pvt. Ltd.
II Floor, G 66, Elders Forum Road,
Panampilly Nager, Cochin, PIN 682 036.
Tel: +91 484 4010403, 4011410
Tel: +91 484 2319597
Mobile: + 91 98460 43403
E-mail: reservation@keralatravels.com
Branch Offices:
Bangalore
Kerala.com Travel Division
Worldviewer Dot Com (India) Pvt. Ltd.,
SG-06, South Block, Manipal Centre,
Dickenson Road, Bangalore – 560 042
Phone : 080-41121549
Mobile : 93421 66554
E-mail : blr@keralatravels.com