Alappuzha, Kerala, India
A "Lakelands Cruise"on the Vembanad Lake allow you to do that................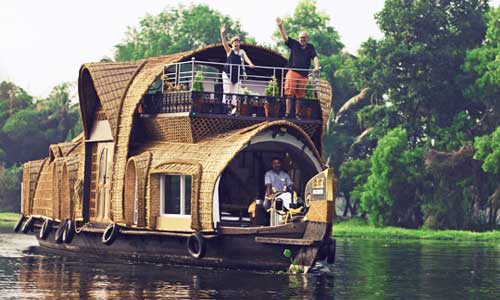 Into the countryside that offers a close look at rustic village life-skiff-fishermen launching their cockleshell boats, large flocks of domesticated ducks waddling down to the water from thatched houses on the banks, aimless cattle grazing in fertile pastures, lotuses floating here and there in small shallow ponds, canals or waterways vary in dimension from being wide enough to be dubbed lakes, lush green rice fields thinning out into the distance and coconut groves with the occasional temple or church, ostensibly rich with marine bounty all around the snaky silvers of freshwater or simply soaking up the sun !!!
an exclusively new experience beckons you.
Lakelands christened the "Pioneers in back water tourism" and the first ever Super Luxury House Boat Operators offers a contemporary & exciting customary flotilla starting from Superior, Deluxe, Luxury and Super Luxury houseboat stays incorporated with a Kerala cuisine or multi-cuisine, with exhilarating destinations and a widespread choice of itineraries, well-trained staff, genuine hospitality committed to eminent service, efficient infrastructure, premier safety principles and a spacious parking area at our nerve center and embarkation point at pallathuruthy –Alleppy(also known as the "Venice of the East" it's was here that traders from across the seven seas came in search of black gold and souvenirs)